Search:
Syphilis
Syphilis is infection with the bacteria Treponema pallidum This bacteria causes infection when it gets into broken skin or mucus membranes, usually of the genitals. It is most often transmitted through sexual contact, although it also can be transmitted in other ways.
Treponema pallidum
The Three Stages of Syphilis
Primary Syphilis
Primary syphilis includes the formation of painless sores called chancres which are a small, painless open sores or ulcers on the genitals, mouth, skin, or rectum that usually heal in 3-6 weeks.
Chancres
However, there may NOT be noticeble the sores or any symptoms, particularly if the sores are inside the rectum or cervix. These sores disappear in about 4-6 weeks, even without treatment when the bacteria become dormant (inactive) at this stage.
Secondary Syphilis
Secondary syphilis occurs when the bacteria Treponema pallidum spread into the bloodstream, and it is the most contagious stage. Secondary syphilis develops at about 2 to 8 weeks after the appearance of the original painless sore (chancre) in about a third of untreated individuals with primary syphilis; however, sometimes, the sore may still be present.

The most common symptom is a skin rash, which varies in appearance, yet frequently involves the palms and soles.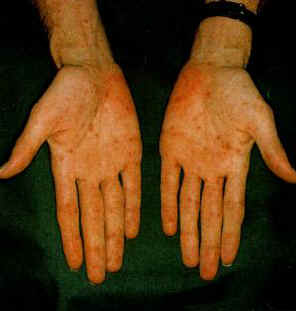 Lesions called mucous patches may be seen in or on the mouth, vagina, or penis.
Moist, warty patches may develop on the genitalia or skin folds called condylomata lata.
Additional symptoms such as fever, general ill feeling, loss of appetite, muscle aches, joint pain, enlarged lymph nodes, and hair loss may occur. All of these symptoms will often also go away without treatment and again, the bacteria become dormant (inactive).
Tertiary Syphilis
Tertiary syphilis is the final stage of syphilis, and the infection spreads to the brain, nervous system, heart, skin, and bones. It occurs about 10 - 20 years after a person is first infected with syphilis. Not everyone who has syphilis will develop this complication. In tertiary syphilis the dormant bacteria may be detectable either by seeing the damage they cause to a part of the body, or through a blood test for syphilis. Late-stage syphilis can lead to long-term health problems, despite therapy. Complications of untreated syphilis include damage to the skin and bones, heart and blood vessel problems, including inflammation and aneurysms of the aorta, and neurosyphilis (an infection of the brain or spinal cord).